Engineering - Test Engineering
·
Canberra
Data Ops Technical Lead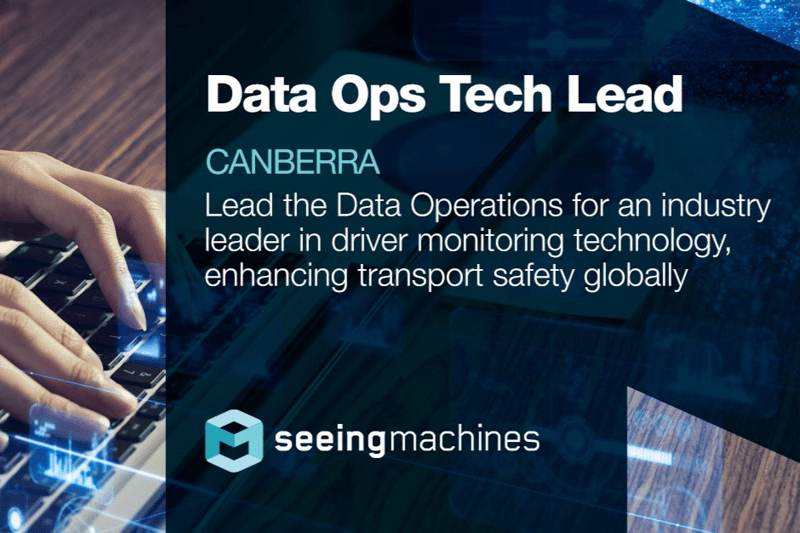 This role leads the Data Operations function within Seeing Machines, provides expert direction to manage the large amount of data used for Engineering development, and support for a range of operational data topics.
In this role, you will:
Leading the Data Operations team this role manages the current data storage infrastructure platforms both local and cloud based. This will require close collaboration with our IT and Engineering teams to find a balance between flexibility, security, privacy and productivity
Manage access control to engineering and program data, including the transfer and sharing policies
Implement and manage the Data Agreement
Manage and evolve the structure of engineering dataset storage
Manage the storage lifecycle of validation and training data
Maintain the process to control data annotation consistency

Provide day to day support to Engineering teams on data storage, transfer, formatting, conversion, and processing tasks. Advising on the best methods and tooling for achieving the desired outcomes and providing hands on support to action
Engage with stakeholders on the design and implementation of improvements to the data infrastructure and tooling for our engineering teams, driving the process to ensure data integrity, availability and efficiency
Develop and manage the roll out of a Database Management System for engineering data storage
Training of Engineering community on SM data management processes
About you
We value the breadth and depth of experience that our people bring to their work. We are seeking people with a good mix of technical competency and personal capability. Specifically, we are looking for people with:
Tertiary qualifications in software engineering, computer science, data science, systems engineering or a similar quantitative discipline or equivalent industry experience

At least 5 years of experience working in a relevant field
Experience with design, implementation and maintenance of data infrastructure solutions
Experience with cloud-based data services (AWS, Azure)
Expertise with database architectures
Experience with scripting languages to process data (Shell, Python, SQL)
Strong experience in quantitative methods of data analysis, data wrangling and data intuition skills
CI/CD experience (Jenkins preferred)
Why Seeing Machines
Work with inspiring people – we are proud to have a team of experts in their field, we invent, innovate, and collaborate
Work flexibly – we encourage our people to manage their work and personal lives to achieve a balanced outcome
With offices spanning the world, Seeing Machines serves a growing market in the UK, Europe, Africa, North America, Latin America, and Asia Pacific
We are social with staff events held throughout the year, from BBQs, morning teas, to special events and other celebrations
We are focused on employee support– we understand the importance of our collective wellbeing! You will have access to our Employee Assistance Program any time you require it
Access to global benefits and reward platform – offering discounts across large range of retailers
We are lucky enough to have fresh fruit supplied daily
If you work in Canberra, you'll have access to free parking.
About Seeing Machines
We are a global company founded in 2000 and headquartered in Australia, and an industry leader in vision-based monitoring technology that enable machines to see, understand and assist people.
Seeing Machines develops Driver and Operator Monitoring System (DMS) technology to enhance safety for Automotive, Commercial Fleet, Off-road and Aviation.
Seeing Machines' technology portfolio of AI algorithms, embedded processing and optics, power products that need to deliver reliable understanding of vehicle operators, in real-time.
The technology spans the critical measurement of where a driver or operator is looking, through to the classification of their cognitive state as it applies to accident risk. Reliable "driver state" measurement is the end-goal of DMS technology.
Seeing Machines has offices in Australia, USA, Europe and Asia, and supplies technology solutions and services to world-leading brands in each market vertical.
For more information, visit: http://www.seeingmachines.com
Seeing Machines acknowledges Traditional Owners of Country throughout Australia and recognises the continuing connection to lands, waters and communities. We pay our respect to Aboriginal and Torres Strait Islander cultures; and to Elders past, present and emerging.
Department

Engineering - Test Engineering

Locations

Canberra
About Seeing Machines
We are a global company headquartered in Australia, an industry leader in computer vision technologies which enable machines to see, understand and assist people.
Our machine learning vision platform has the know-how to deliver real-time understanding of drivers through Artificial Intelligence (AI) analysis of heads, faces and eyes. This insight enables Driver Monitoring Systems (DMS), which monitors driver/operator identification and attention to prevent fatalities.
We exist to get people home safely.
Engineering - Test Engineering
·
Canberra
Data Ops Technical Lead
Loading application form